Things to Do in China
China is the world's second largest country by land area, with a wide range of landscapes and atmospheres. China's civilization is one of the oldest in existence, and the country is home to the largest population of people in the world. Considering its massive size and significant history, it follows that China boasts a great number of activities and sights to see for a visiting tourist or resident, all the same.
If you've just made the move to China or are visiting, take a look at the most popular ways to spend your time in a country known for its long-lasting traditions, unbelievable landmarks, delicious food and more.
Learn a Bit of History
One of the most amazing aspects of China is its unbelievably rich and, fortunately, preserved history. Whether you choose to scrape the surface or dive deep into its cultural biography, the country provides a wealth of options for visitors and transplants alike.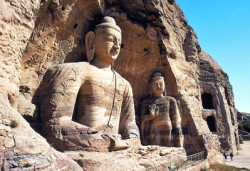 The Great Wall
The country's most famous attraction is undoubtedly The Great Wall, a defensive wall built over 2,000 years ago to protect the people of China from a variety of invasions. The Great Wall is the longest wall in the entire world and now holds a place among the New Seven Wonders of the World. Visitors from all over come to Beijing to hike or walk the wall, and some even paraglide and take cable car rides. The Great Wall is touted as a must-do when in Beijing, but before you visit, take the time to research the best spots and times of year to go, as crowds and weather are more optimal in certain seasons and locations.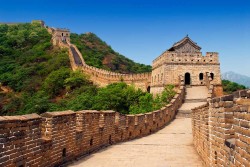 The Forbidden City
In addition to this massive structure, Beijing is also home to a number of imperial landmarks, including the Forbidden City, the Temple of Heaven and Tian'anmen Square. Another record-sized structure in China, the Forbidden City is the largest palace in the world and one of the five "most important." Visiting the Forbidden City provides access to the palace as well as Tian'anmen Square, again, the largest of its kind in the world.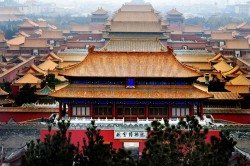 Summer Palace
Beijing isn't the only Chinese city with a rich historical and cultural heritage, though. Just north of the city, you'll find the impressive Summer Palace, the largest, most well-preserved royal park in the Country. Originally built as a garden space for royal families, Summer Palace now serves as a massive collection of both natural views and Chinese cultural information. It's a must-see!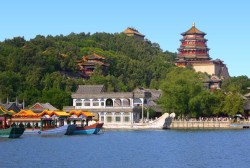 Xi'an's Qin Tomb of Terracotta Warriors and Horses
For an even bigger dose of history, visit Xi'an, too. Listed as one of the top 10 cities to visit in China, Xi'an is home to a massive army of life-sized terracotta soldiers and horses, commissioned by Emperor Qin to accompany him in death. These soldiers had lain secret for over 2,000 years, and are now available, as one of the greatest archaeological sites in the world, to be viewed as part of a three-vault museum.
Potala Palace
If spiritual and religious history is more your cup of tea, don't miss out on the Potala Palace, the residence of the Dalai Lama until Tibet's uprising in 1959. Fortunately for visitors, the palace has been classified as a World Heritage Site and is open for visitation. Boasting a museum, over 1,000 rooms and 10,000 shrines, the Potala Palace is truly a sight to see.
Leshan Giant Buddha
Another World Heritage Site worth visiting while in China is Leshan City's giant sitting Buddha. Built over the course of 90 years, the giant Buddha statue sits at the convergence of three rivers in China and was commissioned with the purpose of taming the water spirit surrounding these three bodies of water on behalf of the area's residents.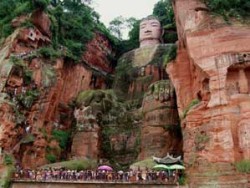 Shaolin Temple
As one of China's five formally recognized religions, Buddhism plays a large role in the historical and cultural makeup of the country. The Shaolin Temple, at the base of Songshan Mountain, is another example of Buddhism's influence in China, and as the birthplace of Chan Buddhism and Kung Fu, it makes the list as a must-see temple for the country's visitors.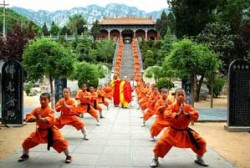 Longmen Grottoes
Another Buddhist piece of history, and one that merges together Buddhism and art, the Longmen Grottoes are a series of caves (1,400 to be exact) that house an incredible number of statues, images, inscriptions and Buddhist pagodas. The caves contain over 10,000 Buddhist statues and serve as a conservatory for the creative and artistic expression of multiple Chinese dynasties. Like so many other historical scenes in China, the Longmen Grottoes are also part of the World Heritage List, and for art, religion or history fans, they're a can't-miss part of any trip to China.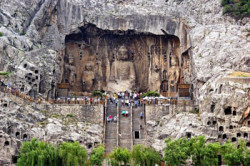 Take in Some Culture
One of the most astounding aspects of China is the country's culture. Home to over one billion people, each with varying cultural preferences, China manages to maintain the independent cultures of at least 56 individual ethnic groups. This means on any given trip to China, there is a whole world (or rather, 56 of them) to take in.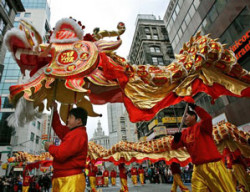 Chinese Massage
China's civilization has believed in and practiced the art of massage therapy for ages, and this technique for relieving stress and treating other bodily imbalance is still strong today. Though some parlors do live up to their notorious reputation, there are numerous, safe places to enjoy Chinese massage, whether your choice is traditional oil massage, focus on the feet or Zhi Ya, a Chinese massage style based on acupressure.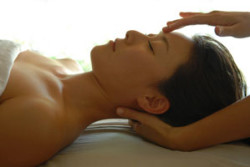 Tai Chi
Another well-known art in the Eastern world is tai chi, a popular martial arts practice aimed at teaching self defense and maintaining health, simultaneously. If you've recently moved to China, there are, of course, many places to learn and train in the art of tai chi, but if you're just visiting, you can still take a few classes during your stay!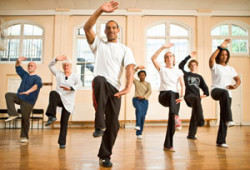 Kung Fu
It's near impossible to embrace the culture of China without regard to the ancient practice of kung fu. Also an art of maintaining health, both internally and externally, kung fu has had its fair share of time in the Western limelight and is well-established as a strong part of Chinese culture. Be sure to visit the famous Shaolin Temple, touted as the cradle of kung fu, or any of the numerous schools offering lessons.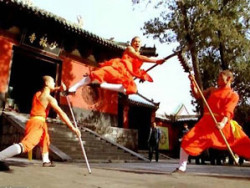 Pandas
Yet another token symbol of Chinese culture are the giant pandas the country is known for. Regardless of when you visit China, you can see these incredible animals in their natural habitats in various parts of the country, and, if you're interested, you can even interact with them, take pictures with them and help care for them!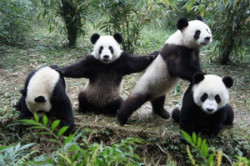 Chinese Opera
If nightlight is more your style, embrace the culture of China in one of its most classic forms: opera. Whether you choose to enjoy the opera style of Beijing, Henan, Huangmei, Yue or Cantonese, each of which is different in its own right, seeing a Chinese opera is highly recommended while in the country. The performances are well known for exceeding in various art forms, including musical, acrobatic and even as painted art on the faces of each character.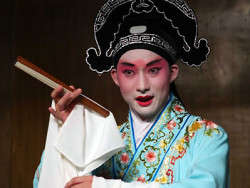 Chinese Acrobatics
If the term "acrobatic" caught your attention with regards to opera performances, the feats of Chinese acrobatic troupes may be another desirable stop before leaving the country. Chinese acrobats travel the world, but are most often seen in their home country, performing shows that may be focused on martial arts or more similar to the Western idea of acrobatics. In either case, these performances are worth looking into during a trip to China.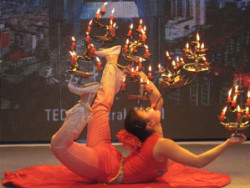 EAT!
No matter what else you do or visit in China, there's one activity that isn't an option: eating. Chinese cuisine is some of the most amazing in the world. The diversity in Chinese food is as wide as that in its terrains, and eating is one of the most important parts of the culture. So while you're in China, do as the Chinese do.

Beijing Duck
Roast duck is praised as one major must-see aspect of China, second (or perhaps equal) only to the Great Wall. Beijing Roast Duck has a rich history, including having been a delicacy served almost exclusively to royalty. While you're visiting the country, especially during cooler months, enjoy roast duck with pancakes, plum sauce and onions.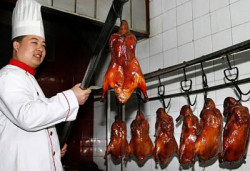 Hot Pots
Speaking of cooler months, don't leave the country during one without tasting a traditional hot pot. If you've grasped the concept behind fondue, you have a rough idea of what constitutes a hotpot. Diners enjoy dipping slices of meat, usually mutton but possibly beef, frozen bean curd, or even vegetables like cabbage, into a boiling pot of soup base until the meat is tender and cooked. These warming meals are a staple in Chinese cuisine, so if you get a chance to dip in, don't pass it up!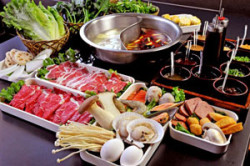 Dumplings
One of the most well-known elements of Chinese cuisine also comes along with more tradition than Westerners know. In either steamed or pan-fried versions, dumplings are not only a Chinese standard, they're also integral parts of the country's Spring Festival and New Year celebrations. Dumpling fillings are symbolic and can range from vegetables to fruit to meat, so be sure to ask what your dumpling represents!
Noodles
Another popular and Westernized Chinese cuisine is noodles, though the term "noodles" is incredibly broad and could refer to any of more than a thousand types and styles of noodles enjoyed across the country. Whether you opt for rice, wheat or bean mung noodles, hand-pulled, sliced, steamed, stir-fried, served hot or cold or any of the wide variety of preparation methods used across China, no visit is complete without trying a local version of noodles.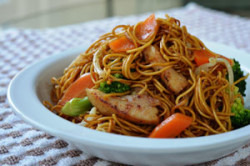 Sweet and Sour Pork
If you're a fan of sweet and sour pork, thank Emperor Qin and his imperial cook for the popular flavor. Legend has that Qin commissioned a contest for the tastiest sweet and sour dish to whet his taste buds, and sweet and sour pork, a combination of pork tenderloin, egg whites and various condiments, won out. If you're in China and share similar tastes, sweet and sour pork is a must.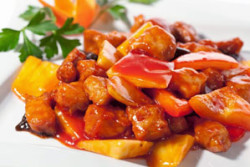 Gong Bao Chicken
Gong Bao Chicken, known to the Western world as Kung Pow Chicken, is a famous Han dish attributed to a Sichuan governor called Ding Baozhen, and composed mainly of diced chicken, peanuts and spices, including red pepper. Gong Bao is one of the most well-known Chinese dishes to the Western world and is certainly worth trying in its homeland!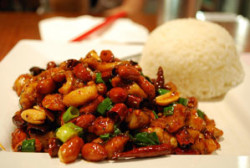 Stir-Fry Cauliflower
Another cooking style the Western world has adopted from China is dry-frying. Green beans are the most popular vegetable for this style of frying, which involves roasting, deep-frying or pan-frying to remove natural water, then adding herbs and spices, but cauliflower maintains popularity as well. Whether you're vegetarian or not, this healthy dish is a must-taste while you're in China.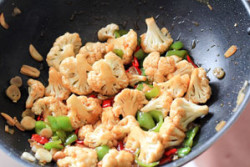 Eggplant
If you've never had fried eggplant, China is an excellent place for your first try. A very popular Sichuan dish, fried eggplant, along with cucumbers and a medley of spicy Chinese seasoning is regularly served in Hong Kong as well. If you're not into fried foods, try dining in Guangzhou, where you can find the vegetable braised or stewed, or Fuzhou, for sautéed "fish" flavored eggplant.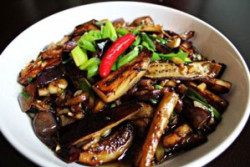 Chinese BBQ (Shaokao)
Again, when in China, do as the Chinese do, and many Chinese citizens do Shaokao, or Chinese BBQ. Differing from American or Western BBQ styles in that no sauce is involved, Chinese BBQ consists of grilling various skewers of meat and/or vegetables coated in heavy Chinese spices and usually served as street food. If you plan a night out during your trip to China, don't miss out on sampling authentic shaokao.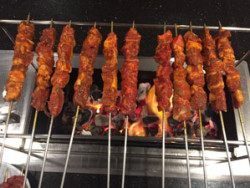 Get Places…Fast
China is definitely not the only place in the world to ride mass transit in the form of trains, but the bullet train system in China does hold the title of the longest high-speed railway (HSR) in the world. The HSR extends to almost all of the country's provinces, meaning that no matter where you're going in China, a bullet train is likely an option. Take advantage!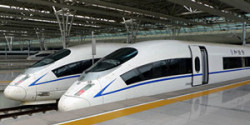 Revel in Nature's Landscapes
Speaking of places to go, a successful trip to China is not complete without taking in the beauty that is China's landscape. From mountains to jungles to mudflats and more, China is a veritable wealth of natural scenery, setting various world records and leaving the country stocked full of sights to see for any traveler.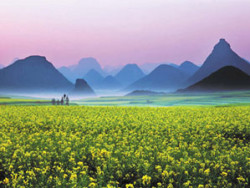 Guilin and Yangshuo
The Li River in Guilin is considered by National Geographic to be one of the World's Top Ten Watery Wonders, and the neighboring town of Yangshuo is touted as one of China's most beautiful locations for natural beauty. In fact, the Li River is even featured on the 20 RMB banknote. Visit this region to take in the Li River's stunning beauty, take cruises on the river, opt for bamboo raft rides, or remain on land by bicycle to explore the gorgeous countryside.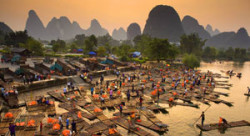 The Yellow Mountains
The Yellow Mountains in Huangshan are another stunning example of landscape in China. These mountains are the most famous in the country, and they're characterized by incredible sunset views, seas of clouds, hot springs and interesting natural occurrences, including twisted pine trees and oddly shaped rocks. In Huangshan National Park, visitors can hike, capture some of the most beautiful photographs in the world and rise before dawn to watch incredible sunsets.
Mount Tai
As "tai" is Chinese for "stability" (thus the term "tai chi"), Mount Tai is said to be the seat of stability in China, so much so that ancient emperors prioritized mountain worship ceremonies here to ensure the strength of the nation. As such, Mount Tai hosts a rich cultural history as well as beautiful natural landscape and is a must-see for any visit to China.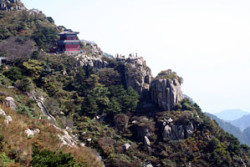 Yangtze River
Another on a long list of world wonders and record holders in China, the Yangtze River holds the title of the longest river in China, the longest river contained within a single country, and third longest in the world, along with the record for highest major river above sea level. In terms of unique qualities, the Yangtze River is known to be the most interesting in the world, as the banks feature a wide variety of activities and other attractions for visitors. Many companies in China host inclusive cruises down the Yangtze river with stops at the most popular riverside spots for taking in Chinese culture and the river's beautiful scenery.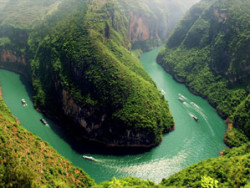 Yellow River
As the second longest river in China and the known cradle of Chinese civilization, the Yellow River also holds its own as a must-see tourist site in China. Like the Yangtze River, the Yellow River is home to a plethora of cultural sites and stunning landscapes, and in addition, a cruise down the Yellow River offers interesting insight into the rise and fall of Chinese history by way of ancient sightings along the way.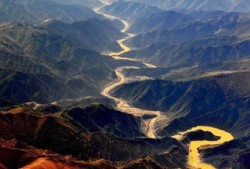 Get a Taste of Modern China
China is a country swathed in rich tradition and history, but that doesn't mean it's out of touch with the modern world. In fact, Shanghai is one of China's shining examples of how the country is growing and incorporating modern building styles and concepts into its cityscapes. While China's cultural history and biography are certainly important, don't neglect a trip to Shanghai in all its cosmopolitan wonder.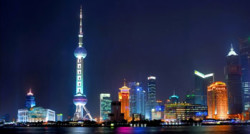 Party Hearty
As any culture does, China makes time each year to celebrate its past, customs and achievements, and if you're around during one of these festivals, you'd be remiss to pass them up.
Chinese New Year
Chinese festivals fall with the seasons, with Spring and the Chinese New Year taking the lead in importance. As significant in China as Christmas or New Year's Eve in the Western world, Chinese New Year, also known as the Spring Festival, includes a wide array of activities and traditions, from the symbolic "sweeping the dust" to home decoration, fireworks and more. On New Year's Day, you can also catch dancing dragons in the street, as is custom, and since eating is just as much tradition in China as many other practices, you can also partake in the eating of lucky foods, including fish, dumplings and a variety of other yummy delights.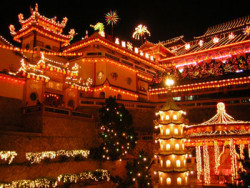 Mid-Autumn Festival
If you're not in the country for the Spring Festival, check out the Mid-Autumn Festival instead. Celebrated in September or October (depending on the Chinese calendar), Mid-Autumn Festival is a time for family reunion, during which the Chinese people also pay tribute to the Moon and its role in their lives. If you're in China during the Mid-Autumn Festival, be sure to try traditional mooncakes and visit some of the top cities for celebrating the Moon Festival, including Beihai Park (Beijing), Elephant Trunk Hill (Guilin) and many more.
Making the move to China, or even just a visit, can be overwhelming considering the options. The country is massive, and aiming to take in all the culture, landscape and amazing experiences can be daunting, but spending quality time in China, taking in the true culture of such a historical giant is well worth the time invested. Take time to plan out which aspects of China are most important to you, and get your experience started!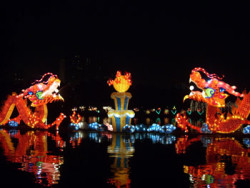 If you like this article please rate it!
[Total: 6 Average: 4.3/5]